Yoga Teacher Training – 200 Hour YTT
Lauren's Yoga Teacher Training – 200 Hour YTT program ensures the highest standards of quality, integrity and professionalism.
Program Overview
In the 200 hour Yoga Teacher Training Program participants will develop the necessary skills to teach a safe and well-balanced yoga class, along with establish a strong personal practice through movement & objective internal observation.
The lead facilitator Lauren Roegele prides herself on exceptional yoga training and has many years of experience teaching teachers as she was the program director at the Vancouver School of Yoga from 2012 – 2016 and is currently on the faculty for Rhodes Wellness College's yoga programs. The philosophy of this training is to make the practice of Yoga safe and accessible, while honoring the traditions of Yoga and playing a part in its' modern evolution.
Participants need only have the desire to embark on this life-long discipline and commit their full attention to the study and practice of Hatha yoga for the duration of the 200 hour YTT program.
Graduates will receive a certificate and can expect to be employable worldwide in the yoga industry. Please note students must meet graduation requirements to receive final certification, this is to be reviewed in the student agreement on the first day and can be discussed ahead of time at the posted information session or discussed privately with Lauren. With the ease of online it is easy to make up missed hours.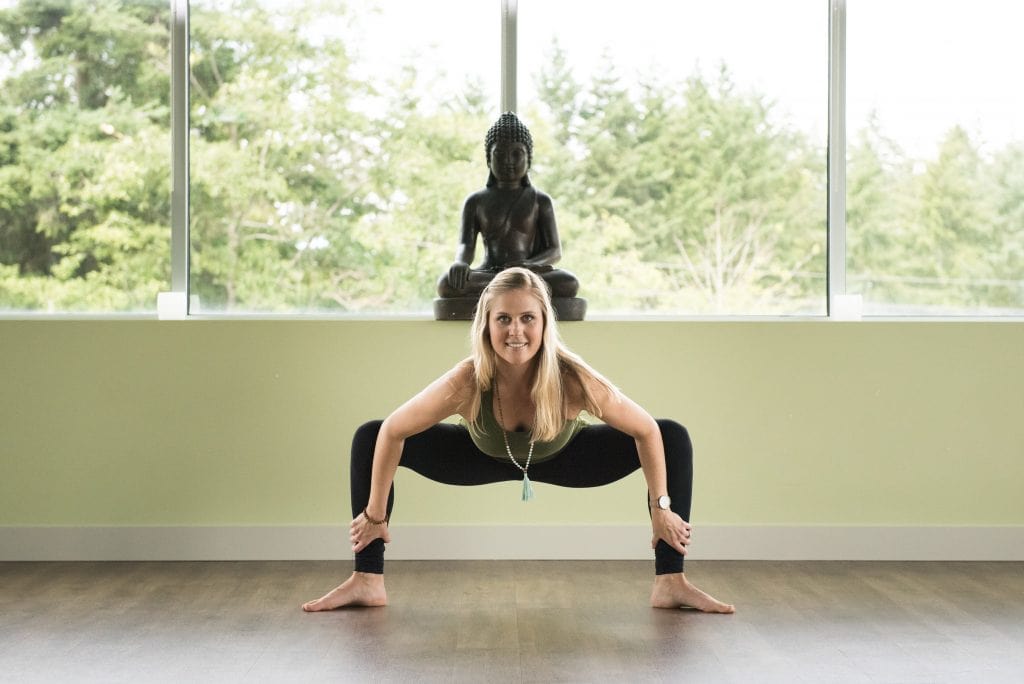 Curriculum
Principles of Practice – Breaking down the level 1 syllabus of postures (called yoga labs), completing the 200hr YTT workbook (both in and out of the classroom), experiencing the practice through both teacher and student lead practices.
Teaching Methodology – Learn the skill behind successfully teaching a well-balanced yoga class. This includes sequencing, language, teaching drills, group & partner work plus final practicum
Verbal adjustments
Anatomy – movement literacy (online)
Broad overview of the history of yoga.
Study of Patanjali's yoga sutras
Weekly mindfulness meditation training
Ethics and lifestyle
Business of Yoga
Teaching practicums
Final exam & workbook completion
Schedule and Dates 2023
Mondays VIRTUAL 6:30 – 8:30pm Yoga asana + Lecture
Wednesdays VIRTUAL 6:30 – 8:30pm Mindfulness meditation
Saturdays 9:30am – 10:45am mandatory yoga class (option for online or in person)
Saturdays 12 – 6pm IN PERSON @ Vayusha Yoga
Graduation celebration to be held Sun Dec. 17th 12:30 – 2:30pm Location TBD
IMPORTANT: All students must attend minimum of 3 yoga classes a week. Vayusha supplies a 3-month unlimited membership to the studio so this should be easy to accomplish, but you can also do classes at other locations or online. You are responsible to keep a log of your classes for final graduation.
Tuition and Fees
$3500 2023 Tuition (plus $175 GST) Total $3,675
$200 DEPOSIT to to reserve your spot. (Deposit is to be put towards tuition. Refundable if for any reason course is cancelled).
Tuition price includes
YTT Manual and necessary text books.
3 Month unlimited yoga membership to Vayusha Yoga Studio to be used during the YTT time period. (Virtually or in-person classes)
Any yoga props needed within in studio classes. (Note: student must bring their own yoga mat)
Admission Requirements
Minimum age of 18
Fluency in English
No disability or disease that could impede the learning process of the individual or jeopardize the health and safety of fellow students/clients.
Prior one year experience with yoga. Many students have asked if it is important to have an advanced physical practice in order to teach Yoga. The ability to perform difficult postures is not necessarily a hallmark of advanced practice. Advanced practice is more about how you approach the postures than what you look like in them.
Read, understand & sign student agreement & YTT policies, which indicate the attendance policy.
(If you miss more than 20 hours of this training you are NOT eligible for graduation without doing makeup work at students cost. Easy to do makeup with online options)
Testimonials
"This program exceeded my expectations and I can honestly say deciding to complete this training was one of the best, if not the best decision I've ever made. Whether you want to be a yoga teacher or just want it for personal growth, you will come out confident to be a great yoga teacher and you will also have a new perspective and more self-love. If you're afraid of the time commitment adding to the stress in your life, you'll actually be learning to take BETTER care of yourself throughout it. I believe this program is the best of it's kind and I feel lucky to live in the area so I could attend (and I live in the U.S. so don't count it out if you live in the states:) Lauren (and all the teachers) is hands down, AMAZING! So knowledgeable, with a lot of experience, yet not dogmatic in their teaching. They recognize everyone's body is different and that everything depends on the intention:) If you're thinking about YTT, you won't be sorry you chose this one!"
"I enrolled in YTT for my own self-practice, to learn more about postures and deepen my understanding of yoga. What I gained through Lauren's training was so much more. Yoga holds new value for me now. Not only do I appreciate the harmony of breath, meditation, and movement – I learned from a collective of deeply passionate teachers that care about every YTT member. '
When I began the training, I was apprehensive about the process. When I completed the course, I felt confident, excited – and grateful! Lauren's program is organized, expertly instructed, and of course infused with unparallel passion. Thank you Lauren for bringing your wisdom, talents, and devotion to YTT."
"I had been doing yoga pretty seriously for a couple of years and decided I would like to expand and learn a bit more about something I loved perhaps work towards a career change or maybe just work towards learning about myself.
YTT was so much more than that. So amazing from day one … The teachers are beyond what I possibly could have imagined the anatomy, history, sequencing, asana, philosophy, prenatal, restorative, alignment all taught in such away you can't help but fall in love with every topic. I learn enough to be confident in each foundation. Gaining intelligence in such an energetic positive environment has left me so excited not only to share but to continue on this journey. Studying with like-minded humans has given me forever friendships and I feel the teachers support will carry on always. I honestly wish it never ended. I could learn in this environment forever!"
"5 stars***** Highly recommended. This is a comprehensive and complete program where you will experience many qualified and inspirational teachers. Lauren is passionate and embodies her truth; she has many years of experience and readily shares her knowledge. It is a privilege to have been her student; it has transformed how I see yoga and how I see myself. I am excited to graduate, and look forward to my future as a confident and courageous yoga teacher!"